We're so excited you've joined us!
Congratulations! This is one of those moments you'll look back on as a turning point on your plant path.
You've followed your calling as an herbalist and now you're ready to gather your toolkit of skills so you can help the folks in your life & community who are seeking healing with herbal medicine.
You're now part of not only one of the most distinct herbal programs, but you're also a part of the most amazing community of plant lovers, herbalists, and healers throughout the world.
It's truly an honor to share this profound plant wisdom with you and we look forward to seeing how it's going to impact your life and the people you're called to serve.
Welcome! We're very excited to embark on this journey with you.
Please take the time to read through this entire page to make sure you know how to access your course and get all the important details about your enrollment.
You'll be getting 3 important emails from us
1. The first email will contain the invoice for your tuition
2. Your username, password and login information (that one's really important so be sure to save it!)
3. Details on important logistics and policies
Be sure to add [email protected] to your contacts so that the emails we send you for the course don't end up in your spam folder! If our emails show up in a "Promotions" tab just drag them into your inbox.
If you don't receive any of these emails please contact us immediately at [email protected]
To access the program, you will login at the student login page. Please bookmark this page so you can access it easily.
After logging in you'll be taken to the Student Portal, which will show the logos for the program you're enrolled in color. Just click that logo and you're in!
Once you're in the program, you can bookmark that homepage and simply stay logged in so you don't have to login every time. The site is totally protected so you don't have to worry about logging in and out every time.
Your username and password will be in your inbox shortly. (Remember, if you don't see this email from us, check your spam folder)
You can change your password, update your credit card information and manage your account from within the Portal- just hover over the "My Account" part of the top menu.
We've built this membership site to be as user friendly and navigable as possible. It is also mobile friendly and should work just fine on your tablet or smart phone.
Get the Evolutionary Herbalism app and get easy access to all of your course content! Watch your program videos, listen to the MP3's, read your lesson PDF's, and track your course progress.
You'll also get access to the private Evolutionary Herbalism Student Teahouse, where you can post to your activity feed, create your profile, engage in forum and group discussions, and make connections with your fellow students.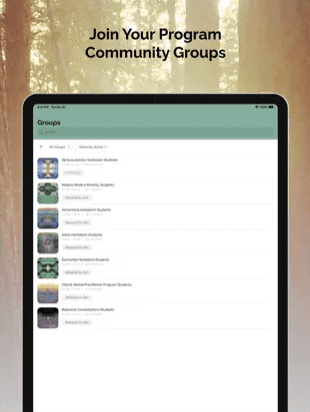 Our favorite thing about this school is the amazing folks who gather in our courses. Even though you're joining an online program, you don't have to feel alone in your herbal studies from home.
To build community within our courses, we've created the Student Teahouse where you'll make meaningful connections with your fellow herbal students from around the world.
You can create your profile, post on your wall, join forum discussions, and make connections with other students. We look forward to seeing you in the Teahouse!
We recognize you just made a big step to take your plant path to the next level.
We want you to know we're FULLY here to support you. We have an amazing team here at the school, so you've got a solid support crew of herbalists who will all be personally available to help you out along the way. Please don't hesitate to contact us if there's anything you need.
If you have any specific questions about the course content, you have access to our complete knowledge-base (which has thousands of articles and videos of Sajah answering questions students have previously asked), weekly-ish Q&A videos from Sajah (along with the entire past archive), as well as having the entire course as a totally searchable database.
If you still can't find your answer, you can submit your question for Sajah to personally answer in a Q&A video he does for students on a weekly(ish) basis.
We'd be happy to talk with you and answer any of your questions!
You can call us at (833) 988-4433
We're available to chat with you live during our business hours, just click the chat  box on the lower right side of this page. If we're closed we'll get back to you as soon as we're back to work.
Drop us an email with any questions you may have and we'll get back to you as swiftly as we can. Send us a message at [email protected]